August 12.
A day that will live … well, at least in my memory. It started with well wishes from friends and family. I could hardly keep up with tweets and posts and emails!
On the horizon was the debut signing at the University Bookstore, to be followed by a release party at the District Lounge a few blocks away. I had already ordered a cake, because what would a book release party be without a cake with the book cover on it? I picked it up in the afternoon and put it in my fridge until it was time to get a head start to North Seattle for the signing. Traffic ensued, by I had time. I stopped at The District Lounge and dropped off the cake and my vinyl sign of the book cover, which I set up on its stand before heading to the bookstore. I was there about an hour early. A few attendees of the reading were already milling around the signing area. And I saw that the store was ready for me: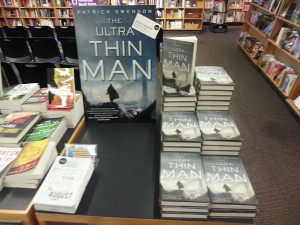 I had also brought some treats for the reading itself and set up a platter. Dang! Forgot to take a picture of said platter. But here's a picture of the treats. Yes: ULTRA THIN cookies and ULTRA THIN pretzels.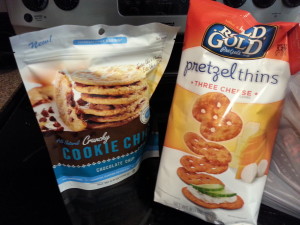 It became evident early on that the crowd would be pretty decent. Events personnel were moving more tables out of the way and setting up more chairs. At 7:00 I was introduced by SF buyer Duane Wilkins, and I went on up with my camera video rolling. It was my Comic-Con moment, taking video of the awesome crowd. I took a few pictures of the crowd, but I had them pretend they were on a rollercoaster ride at an exciting part and act accordingly: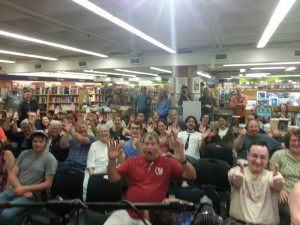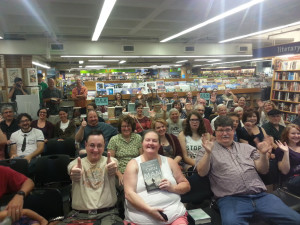 I took some time to thank my family (my mom and one of my sisters flew in from Montana to be there, for example), and past students of mine who were also there, and maybe I told a few jokes. It's a bit of a blur now. Soon enough it was time to read. I wowed them (I hope) with Chapter 1 of The Ultra Thin Man, and left them with a cliff hanger. (Or was that a tower diver?)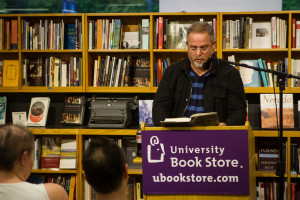 Q&A was next, and I answered some good questions. Luckily, I wasn't stumped.  I was asked about my influences, about what writers I liked right now, about my writing process, and other questions I've forgotten.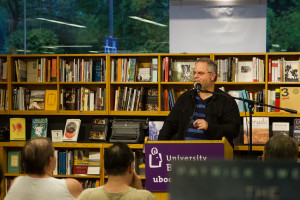 Then it was time to sign books! This young lady I didn't even know (Pepper Jean!) came up to me as I started to sign her dad's book, and said, "I'm getting my picture with you!" And she grabbed my arm, put her other arm around my shoulders, and leaned in for the photo op. SOOO cute.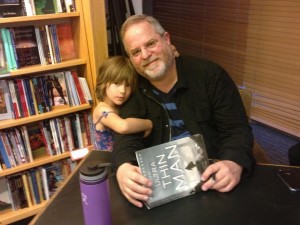 Also, I found that as a lefty, my method for signing kept flashing that lovely book cover to the front all night!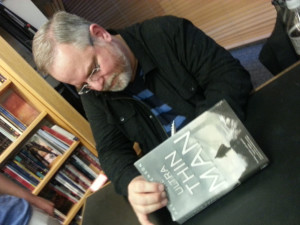 I used this student's last name for a side character in chapter 1. He thought it was pretty cool, once I pronounced the name correctly.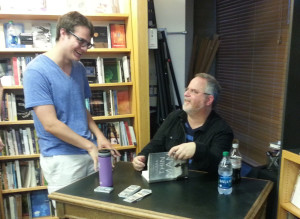 Folks started to go over to the afterparty when they had their books signed. I was, of course, about the last one out of there. But when I arrived at the District Lounge, the cake was waiting for me, uncut, people having some dinner and drinks, waiting patiently for me to arrive. Then it was down to the last handful of us.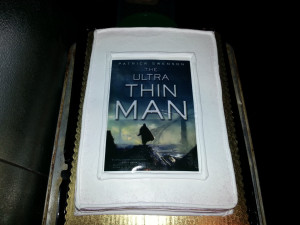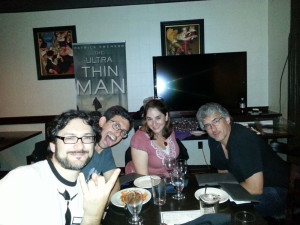 Today I spent more time with my mom and sister at my townhouse, and my sister gave me an appropriate gift: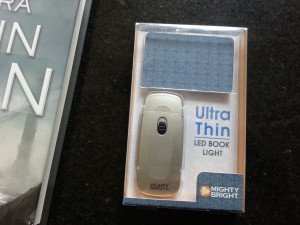 Several guest blog posts I wrote went live, and a few new good reviews popped up, and later in the evening I had a Twitter interview.  And now I'm typing this, sort of caught up with everything. Tomorrow I have a signing at Third Place books in North Seattle.
The dream continues.